the core of what we do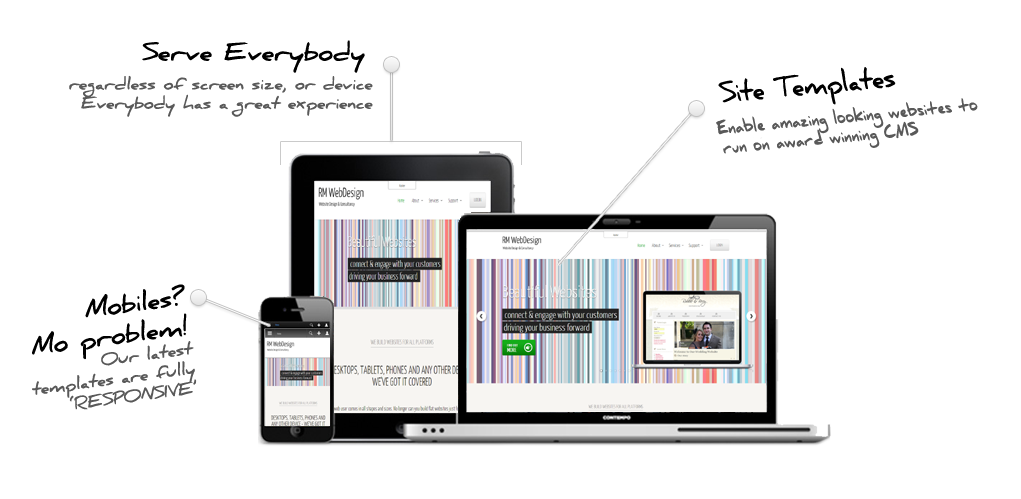 RM WebDesign have been building beautiful websites since 1996, for businesses large and small.
We have experience in crafting our sites using the industry best; we have worked with Macromedia Dreamweaver, Frontpage, Adobe Flash and our flagship, fully database driven, CMS based websites using the latest Joomla version 3.
We can bring your online presence up to date with our latest, fully responsive, mobile ready websites. Working with the very best of design specialists, we can get your new website up and running in no time at all, with a look and feel that perfectly compliments your business. Our average project span is less than one month from concept to delivery.
Our formula is simple;
We discuss your requirements & your brand image
We source and customise a template to perfectly compliment your business
We establish your hosting, build your CMS system and apply your template
We add your content and publish your new site
...and we don't stop there!
After your site has been published we work with the major search engines, Google, Yahoo, and Bing; to make sure your site is indexed as soon as possible.
We will train your administrators, and issue instructions on how to keep your site up-dated. Our Joomla CMS packages are so easy to manage, with no technical knowledge required.
All of our subscription packages include Search Engine Optimisation (SEO), once your site is live we monitor your visitor activity and apply industry best practice, and SEO ethical methods, to ensure your site is promoted as high as possible within search engine results.
Utilising Google Analytics, we can also give you total visibility of the visitors of your site. Reporting enables you to see who is browsing your site, when and which pages. This can support specific marketing campaigns, and can also be used to monitor sales, conversions and specific goals.
Already have a website that needs updating, or refreshing?
We can work with your existing site to refresh your content. We are happy to take on any work you may require.
Contact us with your requirements today.